Getting Started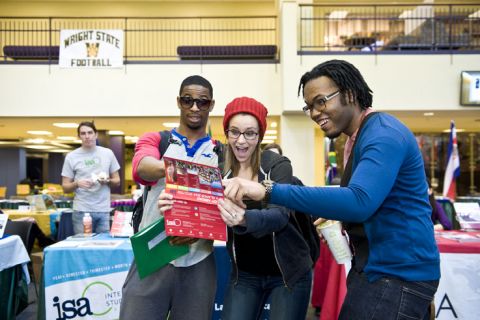 Follow the steps below in order to help you find the program that is right for you!
Step 1: Explore
Come in for open advising in the study abroad office:
E190 Student Union, Monday-Friday 1 pm – 4 pm
Click here to see what questions you should be thinking about while exploring.
Step 2 Meet with a Study Abroad Advisor
Our Study Abroad Advisors are here to help you find the program that best fits your needs.
Step 3: Meet with our Financial Aid Advisor
Our very own financial aid advisor for study abroad, Gail Cyan, can help you explore your financial options once you select your program. Scholarships and financial aid can pay for study abroad fees, and Wright State awards thousands each year in travel assistance to students.
Make an appointment with Gail by emailing studyabroad@wright.edu or by calling 937-775-5745
Step 4: Start Applying
Once you have selected a program, please start the application process. Be sure to plan ahead since many deadlines can be 1-2 semesters ahead of your actual travel time!
Step 5: Get ready for the learning experience of a lifetime!
What questions should I ask?
Courses
Look into what courses your program of interest offers. What courses are you able to receive credit for while you are abroad? Plan it out with your academic advisor in order to receive credit for your major or minor.
Location
What type of environment are you looking for? Big city? Small town? Field work? Do you have a region in mind already?
You can
search for your ideal program
by continent, country, city, career/academic focus, or by the
interactive map
on this site.
Immersion
Are you interested in living with a host family or live in an apartment/residence hall? Would you like to do an internship or volunteer work while you are there?
These options are listed on the program brochure page.
Program Length
Would you like to study abroad for a summer, a semester, or a year? Some programs can be as short as a couple of weeks.
Look for the "Start" date and "End" date to see if it matches your schedule.
Career
How does this study abroad experience align with your career goals?
Recommended Link
To learn about the application process,
click here
.