For Parents & Guardians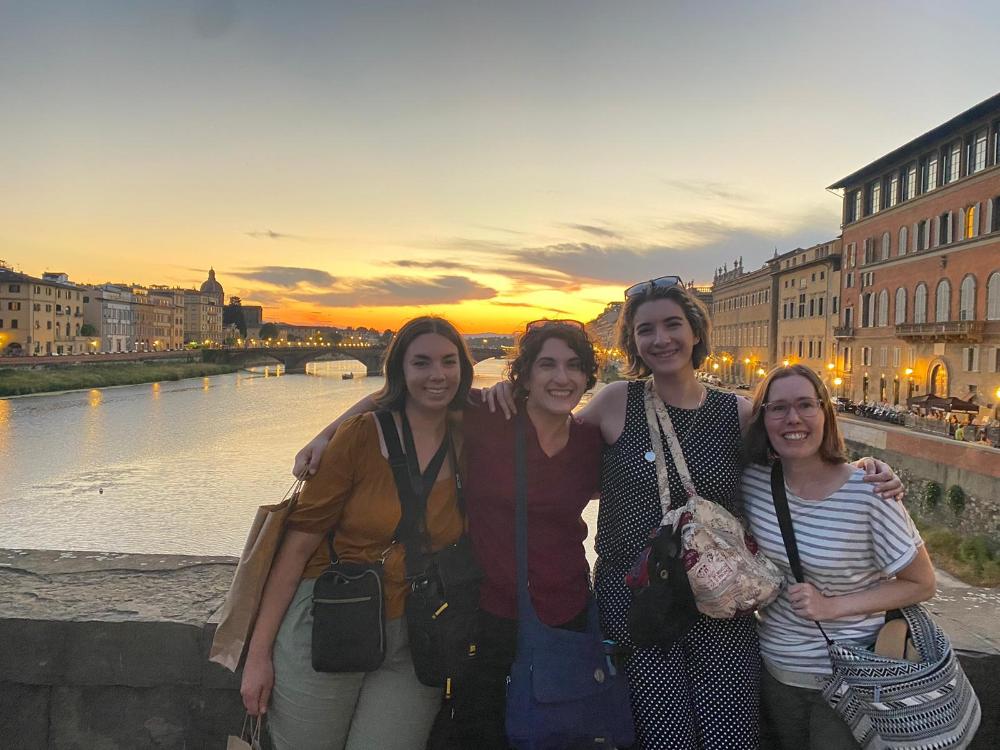 BENEFITS OF STUDY ABROAD
Every year, American students travel on study abroad programs to various places in the world. The experience provides them with many benefits that can aid them in their future professional and personal lives. Benefits include an opportunity for personal growth, development of intercultural skills and global competencies, achieve educational and career attainment goals, hone language skills and the opportunity to experience living in an another country.
FINANCES
Money: Make sure you informed with the money situation for your student. It helps to sit down with the student to formulate a plan for getting money, a credit card that can be used abroad, letting the bank and credit card company know that the student will be out of the country and discuss budgeting with the student.
Financial Aid Considerations: All students are encouraged to visit our financial aid representative that advises specifically on study abroad expenses. Family members are welcome to attend these meetings with student's permission. If a student has a specific program in mind, this representative can map out all the associated costs as well as provide an accurate list of financial resources that are available to them. Students can make an appointment by emailing
studyabroad@wright.edu
Scholarship: There are many scholarships available for study abroad. Click
here
to see a list to get started. The UCIE study abroad advisors are experienced with assisting students in writing essays and applying for scholarships - with excellent results. Please don't hesitate to reach out for assistance.
LEGAL CONCERNS
Consider creating a Power of Attorney documents:
WSU students can access Wright State Student Legal Services free of charge to obtain these documents. They can call 937-775-5857 or go to
https://www.wright.edu/student-legal-services
to get started.
Financial Power of Attorney- Students can name a family member or trusted person to manage their finances while abroad. This could mean working with a landlord, paying bills or receiving money on their behalf. This document can also be put on file with the student's bank or credit card company.
Medical Power of Attorney – Students can name a family member or trusted person to talk with medical providers while abroad regarding their care.
COMMUNICATIONS
It is important to build a communication plan with your student before they leave. Whether you communicate via FaceTime, email, phone call, SKYPE and other social media platforms, be sure to discuss this with them. Scheduling check-in times can work as long as time differences are considered. The key is to stay in touch but to also give them space to enjoy their time away.
Also, checking with your cell phone carrier to see if there are any options for an international plan.
Health and Safety
Health and safety considerations are an important topic in an every-changing world. Parents should be sure to be familiar with the program their student is attending and how to contact the program as well as other contact methods. Parents should also have a copy of the student's passport, the flight itinerary and copies of other important documents.
Medical and Dental
Make sure that your student leaves you with copies of all their medical information. It is important as circumstances can happen where you as the parent may need this. Having information about their prescriptions is crucial in case of an emergency.
Safety
Be sure to have your child enroll in the Smart Traveler Enrollment Program (STEP). This is a free service provided to US citizens and national traveling abroad to enroll their trip with the nearest US Embassy or Consulate. STEP can provide safety information about your host country which is useful in making travel plans. It gives the US Embassy or US Consulate the ability to contact you in emergency as well as help your loved ones in the United States get in touch with you in an emergency. Website: https://step.state.gov/
Health insurance: All students will be covered by additional medical insurance that will provide comprehensive coverage while they are abroad. Students can contact their UCIE study abroad coordinator for a copy of the policy that applies to their program.
Travel Insurance: WSU partners with International SOS to provide security services to all students studying abroad on WSU programs. In addition to on the ground assistance, student can call before departure to learn up to date detailed information about the security situation in their destination location.
https://www.internationalsos.com/
CFAR Insurance: Cancel for any reason insurance (CFAR) is NOT covered by WSU program fees but is recommended. If a student would like to purchase CFAR for their program they can contact their UCIE study abroad coordinator to learn more.
Personal and Mental Wellness
One of the most common feelings students get when they study abroad is being homesick and experiencing culture shock. This is not uncommon effect for students as they are experiencing new cultures, new people, food, music, language and routines. The four phases of culture shock is honeymoon, frustration, adjustment and acceptance. The following link also has information on tips to deal with culture shock and homesickness:
https://www.usnewsglobaleducation.com/all-advice/8-tips-to-overcome-culture-shock/
It is imperative to be sure to address any personal or mental wellness issues as soon as they appear.
b. Being homesick and anxious is very common.
c. Be sure to address mental wellness
FERPA Release
Due to the Family Educational Rights and Privacy Act of 1974 (FERPA), students do have a right to protect their privacy in regards to school records. When a student is abroad, it is important that the student has provided a FERPA release form that gives consent to the sharing of information to whoever is designated on the form. This could be parents, guardians, family members and the school. This is crucial when a student is in a study abroad program to have left this in place in case of an emergency.